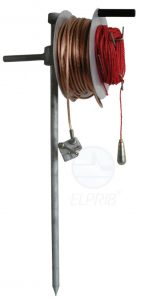 UNP-10B "BOOMERANG" AND UNP-10 (WITHOUT REEL)
UNP-10B and UNP-10 are designed for emergency earthing of overhead lines through an overhead line short-circuit by means of a jumper connected to the "grounding" in all cases requiring instant voltage disconnection of overhead lines for rescuing of those affected by electric shock. The device comprises the active part (operational), earthing part with a cramp, insulating wire weighted at the end, and earth rod EZ-1.
Permissible operating temperature is from –25 Cto +55 оC, at air relative humidity up to 80% at 25 оC.
Nominal Voltage, kV

from 6 to 10

Short-circuit part cable section, mm2

25

Short-circuit part cable length, m

3,0

Earthing part cable length, m

16

Earthing part cable section, mm2

25

Withstanding thermal current, kA/3sec

2,5

Insulating wire length, m

25

Insulating wire section, mm2

4

Sizes (in packing), mm:
- Bag

400х260х250

- Cover

850x50x30

- UNP-10

820x150x150

Set weight, kg:
- UNP-10B

10

- UNP-10

7,2