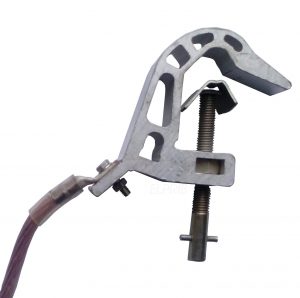 ZPP-35М-3 FOR ELECTRICAL INSTALLATIONS
Portable earthing devices are designed to protect people working at a deenergized section of electrical installations in case of accidental energization of the section or appearance of induced voltage. Supplied with cable section 25 mm2. By order can be supplied with cable section 35mm2, 50mm2 70mm2, 95mm2 and 120mm2. Devices with cable section up to 50mm2 completed by VZL-1M and VZRU-2 clamps. For cable section above 50mm2 completed by D16 PT clamps. Completed with SHZP insulating stick.
Permissible operating temperature is from –25 оC to +55 оC, at air relative humidity up to 80% at 25 оC.
Nominal Voltage, kV

35

Withstanding thermal current, kA/3sec

4,0

Number of sticks, pc

3

Number of phases

3

Cable section, mm2

25

Cable length between phases, m

2,5

Earthing cable length, m

7,0

Size (in packing), mm

340х220х90

Weight, kg

5,4÷5,7
Modifications of ZPP-35М-3

Cable section, mm2

35

50

70

95

Withstanding thermal current, kA/3sec

5.6

8.0

10.0

15.0

Weight, kg

6,3÷6,6

8,7÷9,0

11,5÷12,0

13,8÷14,2