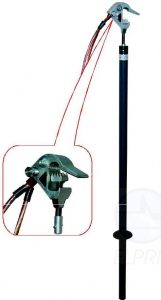 SPECIAL PORTABLE EARTHING DEVICE PK 1-10
The earthing device is designed for separate earthing of protected plastic-insulated wires of overhead lines of up to 10kV and commercial frequency, in order to protect personnel working at a deenergized section of electrical equipment and performing switching work. Supplied with cable section 25mm 2. Completed with SHZP 10/15 insulating stick.
Permissible operating temperature is from -45 oC to +45 oC, at air relative humidity up to 80% at 25 oC.
Nominal Voltage, kV

from 0,4 to 10

Withstanding thermal current, kA/3sec

4,0

Number of sticks, pc

3

Number of phases

3

Cable section, mm2

25

Cable length between phases, m

1,6

Earthing cable length, m

10,0

Total cable length, mm

13,2

Total length, mm

1280

Sizes (in packing) :
Stick, mm

1160x290x90

Bag, mm

360x240x140

Weight, kg

7,2