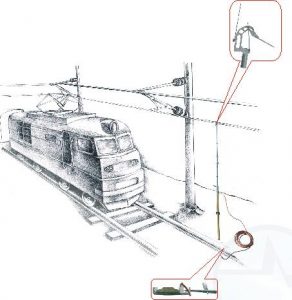 PORTABLE EARTHING DEVICES WITH STICKS FOR RAILWAYS UZP-2
The device is designed for applying from-the-ground earthing on railway contact systems. A special design excludes possibility of earthing imposition without preliminary installation of earthing cramps.
Permissible operating temperature is from -45 oC to +45 oC, at air relative humidity up to 80% at 25 oC.
Nominal voltage, kV:
DC

up to 3,3

AC

up to 27,5

Withstanding thermal current, kA/3sec

8,0

Handle length, mm

1000

Insulating part length, mm

1000

Number of metallic links

1

Cable section, mm2

50

Earthing cable length,m

12,0

Total length, mm

up to 4600

Weigh,kg

8,0 up to 12,5