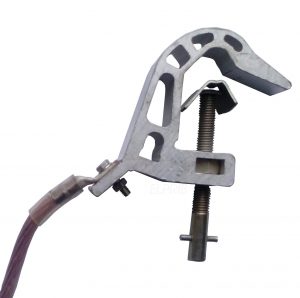 ZPL-35М-1 FOR OVERHEAD LINES
The earthing device is designed for electric shock protection of people working at de-energized conductive sections of electrical installations of distribution substations in case of erroneous energization of the sections or induced voltage occurrence given absence of stationary earthing. Comes standard with a wire having a 25 mm2 section. Upon request, it may be supplied with a 35mm2, 50mm2, 70mm2, 95mm2 and 120mm2 earthing conductor section.
Comes standard with SHZP rods.
The clamps of the earthing device are made of rolled steel D16PT.
Permissible operating temperature is from –25 оC to +55 оC, at air relative humidity up to 80% at 25 оC.
Nominal Voltage, kV

from 10 to 35

Withstanding thermal current, kA/3sec

4,0

Number of sticks, pc

1

Number of phases

1

Cable section, mm2

25

Earthing cable length, m

12,0

Size (in packing), mm

340х220х90

Weight, kg

5,8
Modifications of ZPL-35М-1

Cable section, mm2

35

50

70

Withstanding thermal current, kA/3sec

5.1

8.0

10.0

Weight, kg

7.0

8.8

11.2