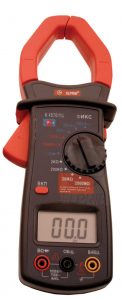 DIGITAL CLAMPMETERS K4570/1C
Digital clamp meters are designed for measuring of AC current without breaking the AC circuit, voltage in DC circuits of up to 1000 V, and in AC circuits of rated voltage of up to 750 V and 50/60 Hz, resistance, as well as to test diodes and contacts (audible probe). Clamp meters are portable devices combining transformer current having split magnetic circuit with a digital multimeter.
Permissible operating temperature is from 0оC to +55 оC, at air relative humidity up to 80%at 25 оC.
AC Voltage, V

750

DC Voltage, V

1000

AC Current, A

20-200-1000

Resistance, kohm*

2-200

Diode test

+

Continuity Buzzer

+

Data Hold

+

Indication

3 ½ Digits LCD (Max reading 1999 )

Power supply, V

9(6F22)

9(6F22)

268х72х42

Weight, kg

0,41